Ah Bag Ah Sugar.......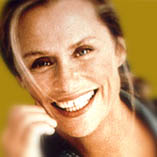 I have a gap between my front teeth just like Lauren Hutton and growing up with it was not easy boys will making sucking sounds when my sister and I come around it was really annoying.
When I got a little older I would get teased by men they would say girl you hear what they say about women with teeth like yours? No well alyuh eh easy. I would always not get it. I knew it was a sexual thing but friday a co-worker finally explained it to me and I blush everytime I think about it. He said that they used to say that the gap means that ah have
ah bag ah sugar
that ah walking round with
ah bag a sugar
I just love that.
My boss the big one who i haven't seen in about two months (one of the benefits of working night shift) saw me on friday and said you've losed a lot of weight since I saw you he said I looked great and I felt high I know my clothes are feeling better but haven't found the time to go weigh myself at the mall but hopefully this week I will go because I want to try something else a healthy way to lose weight that a friend told me about and will blog about it soon.